In addition to printing recyclable and non-recyclable logos, the logo on the trash can can also print mainstream positive energy value propaganda, such as the core values ​​of socialism: prosperity, democracy, civilization and harmony, the rule of law, freedom, fairness, equality, patriotism, dedication, friendliness, and values.
There are four ways to print a logo on a general trash can:
1. Laser engraving is suitable for plastic boxes with large thickness, and the color requirements are not high.
2. Silk screen printing is suitable for simple printing process requirements such as single color and double color.
3. Thermal transfer, suitable for printing on plastic boxes with large volume and uneven surface.
4. UV inkjet printing, suitable for color printing, 3d embossed plastic boxes.
Different printing processes have different effects and required costs on plastic boxes, and they should be selected according to actual needs.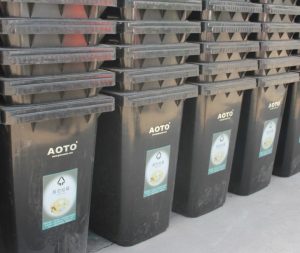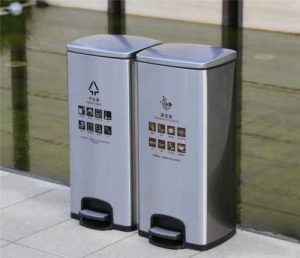 In addition, we can also customize the trash classification sticker identification:
Good garbage sorting label identification needs to be waterproof, oil-proof, scratch-resistant, sun-proof, good printing effect, and strong adhesion. We provide customers with environmentally friendly garbage sorting label identification, which will not pollute the environment while meeting customer requirements. Any size of trash classification stickers can be customized according to customer requirements.